Tulum Art
Posted on April 26, 2016 by crowhawk2012 in Main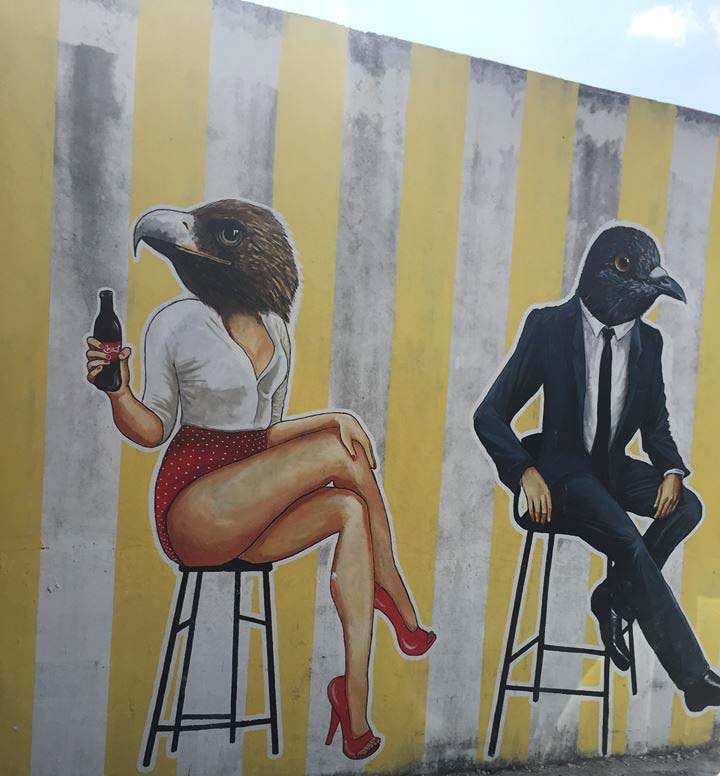 Jake and I have one more full day in Tulum before we start the long and winding journey back to Sierraville. We will go from 85 degrees (never going below 75 in the evening) – along with humidity enhanced frizzy hair – to 55 degrees (and 35 and below at night) with a chance of bloody snow. But, at least, I get my great hair days back. All this change in eight magical modern day hours of easy squeezy air travel. A to B to C. One, two three.
Today, I wrapped up all the art exploration I had hoped to finish. I met and briefly talked to the 'Art Guy' of Tulum, Alfonso Garrido, who is a mover and shaker in the Tulum art world. From the little I did see while visiting this delicious town, there is a strong art movement happening. Alfonso started a resident artist colony, Residencia Gorila, a few years back that allows artists to live and create their art. They have less pressure than the normal artist city dweller who has to worry about rent and overhead, leaving the artist exhausted, ultimately interfering with the creative process.
The Tulum Art Club downtown is the hub, and probably a means to fund these art projects. It's a gallery slash café. The coffee is the best we've tasted here and Jake is a connoisseur of coffee and if he gives the coffee a thumbs up then it is great stuff. The decor is modern and minimalist. The gallery room is hung with all Mexican and other Latin American artists, which one would expect. All of it is top notch and worthy of a fine art gallery. I recognized some of the artists, but most of it I couldn't even find online to do further research (Then, again, I'm a poor researcher and could very have plugged in the wrong names). My favorite pieces were by Juan Alcazar and Eduardo Guzman, who … well, moved me enough to go back and stare at these paintings more than twice, with women floating near a bull and women floating in general.
So yeah, love the art here, but Alfonso is no longer recruiting, nor arranging for any more murals because: "They do not pay, and we need money to run this project." It's too bad no one funded these murals because they are dazzling, and add so much color and beauty to the environment. I had a guy down the street ask me if I wanted to paint a mural at his restaurant after he saw my art on my website, but seeing how I'm not a muralist I didn't pursue the offer. Then after talking to Alfonso maybe it wasn't really a job offer, but a "do it for free" offer. I would love to paint something down here, but not gratis.
After talking to Alfonso, who said no one paid for all the murals they did, and just did it for the exposure, he came to the realization that exposure is not enough. For me, right now, anyway, the moral of the story is that I should stick to the U.S., where I'm already established and selling exceedingly well, and I don't have to start all over from scratch. I'll still consider the mural job offer, but ask him to feed me, and find me a good cheap rental … for that, I would totally do it.
Tomorrow, Jake and I will take a dip in a nearby cenote, eat the rest of our food, and start packing for home. I am excited now to return: I miss my paints, I miss my kitty, I miss my family at Sierra Hot Springs, and I miss talking to my oldest daughter twice a day.